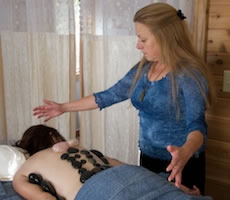 Cedarwood Spa, a healing retreat nestled in Sacred Cedars, offers a variety of healing services in a peaceful setting. Cedarwood Spa is a place for relaxation and a get away from the stresses of daily life.
The Spirit of Sacred Cedars and surrounding woodlands empower you to reconnect with the healing of Mother Earth and nature.
Surrounded by the Superior National Forest and near the North Shore of Lake Superior, Cedarwood Spa is conveniently located ten miles from either Lutsen or Grand Marais, Minnesota.
Cedarwood Spa also offers Sauna and Therapeutic Bath services.
You can create your personalized therapy session from individual or combined techniques.